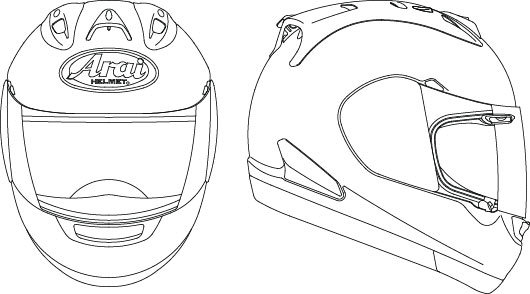 WARNING
Beware of counterfeit helmets.
Genuine Arai helmets are sold only by Arai authorized dealers.
Genuine Arai helmets are packed in white cardboard boxes with blue stripes. The boxes include a cloth Arai helmet bag, an owner's manual, and a small bottle of lubricant. There is a warning label on the helmet chin strap. Some genuine Arai helmets come with a Max Vision Visor and may also include a Pinlock lens.
Only Genuine Arai helmets are covered by the Arai 5-Year Limited Warranty.
Important Warning concerning buying helmets from other countries.
Each world market requires different helmet standards.  Never purchase helmets from outside your market as they may not comply with legally required standards for your country, not to mention their interior fit may not have been designed for your market and as a result may be very uncomfortable.
Helmets purchased from outside a given market are not eligible for after-sales service or warranty claims.  Arai and its authorized agents cannot endorse the continued use of a noncertified helmet.